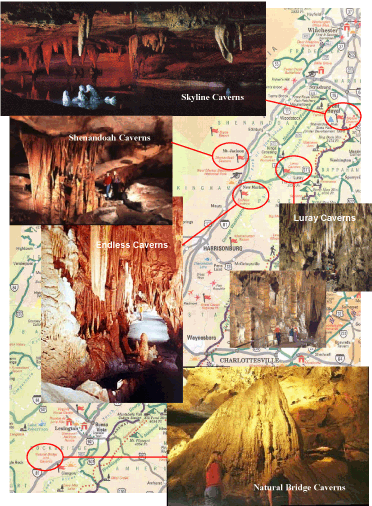 Geology Field Trip

Caves of the Shenandoah Valley, Virginia
Introduction:
Virginia is filled with unique natural features – from the mountains to the seashore. All of these are important geological features as well as being of economic and historical value. Such are the caverns of Virginia – most of which are located in the Shenandoah Valley.
Natural rain is slightly acid and when it falls and passes through soil, it becomes a stronger acid – one strong enough to slowly dissolve limestone – the major rock of the Valley. When limestone dissolves, it leaves openings – sometimes with sedimentary deposits – and we call these caverns. They are natural, made by nature, and we sometimes call them "tourist attractions." They sometimes are improved and enhanced by man, for commercial gain.
Wild caves are not, but most of these are on private land and should not be entered without permission of the landowner and only in the company of an experienced caver. They are still dark, wet and dangerous. For a unique and safe experience visit a commercial cavern.
Here are short descriptions of the caves of the Shenandoah Valley that include the telephone numbers, web sites and locations of the caverns. Remember these are commercial and there is a cost of admission- often reduced for students – check the web site for information.
Endless Caverns – New Market – (540) 740-3993 Cavern rock formations include stalactites, stalagmites, giant columns, shields, flowstone and limestone pendants. Guided tours on lighted walkways.
Luray Caverns – Luray – (540) 743-6551 Cavern featuring cascades, columns, stalactites, stalagmites and underground pools. Unusual organ uses stalactites to play music. Guided tours. National Natural Landmark. Car and carriage exhibits outline transportation history.
Natural Bridge Caverns – Natural Bridge – (540) 291-2121 Cavern rock formations include stalactites, stalagmites, "hanging gardens" and "totem poles." Underground streams and waterfalls. Guided tours.
Shenandoah Caverns – New Market – (540) 477-3115 Large, underground caverns. Unique rock formations include Capitol Dome, Oriental Garden and Bacon Formation. Caves accessible by elevator.
Skyline Caverns – Front Royal – (540) 635-4545 Extensive caverns featuring delicate, flower-like calcite formations called anthodites. Three underground streams and 37-foot-high Rainbow Falls. Guided tours along lighted walkways. Miniature train ride.
Visit the following websites for more information on local caverns:
www.endlesscavern.com
www.luraycaverns.com
www.naturalbridgeva.com/caverns.html
www.shenandoahtravel.org/
www.skylinecaverns.com
Activity:
This is a wonderful weekend activity. Such a trip may be combined with another exercise. Before you complain too much, think for a minute. If tourists come from many states to see our caverns, shouldn't we at least visit one? They are a beautiful part of our geology.
Write a brief summary of your cave visit for credit. Type the report, please. Show you name and date of the visit and which cavern you visited. You should report on the interesting aspects of your visit. Do not visit a wild cave. You will not receive any credit. And no, I am not affiliated with any commercial cavern.
Can't go? Don't have the money? The car died? Call me, I can always assign an alternative activity.