Gold Mine Museum Field Trip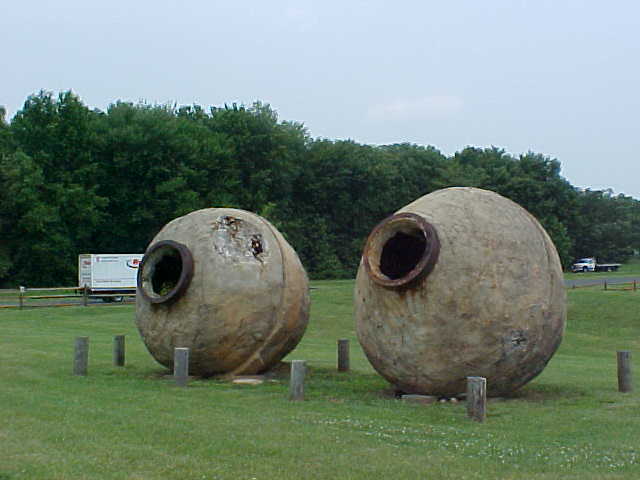 Thereís GOLD in these hills! Hard to believe? Here in Virginia there is a gold belt of some 4000 square miles passing through Fauquier County. When driving along Route 17 you will see a sign for a community called Goldvein. Did you ever wonder where the name originated?
There were at least 18 gold mines here at one time, from the 1800ís to the 1900ís. Gold was mined by panning, from trenches and placer pits and finally from deep mine shafts. At one time, Virginia and her adjoining sister states to the south was the major gold producing region of the nation.
The history of gold mining in Fauquier County is interpreted at Monroe Park in Goldvein, Virginia. This is a new and developing park. Not a large area and the large hornet balls visible from the highway should get your attention. There is a nice display of gold mining tools and equipment and even maps if you want to try your luck at prospecting.
Be careful while searching for Monroe Park, you may miss it. Traffic is fast on Route 17 but the Goldvein store and post office are obvious on the north side of the highway. If you get to the store you have gone a little too far so retrace your route and look for the hornet balls.
Enjoy your visit. See there is something to do other than study the Civil War. And, yes there is still gold in Fauquier County!
Address:
14421 Gold Dust Parkway, Goldvein, Virginia 22720
Phone: 540-752-5330
Hours:
Open Tuesday, Wednesday, Friday and Saturday
9:00 AM - 5:00 PM
Closed Thanksgiving, Christmas Day and New Years Day
Web Site:
Field Trip Directions and Map:
Monroe Park can easily be reached by taking the following routes:
From the west (Fauquier Campus of Lord Fairfax Community College) for the Warrenton and Culpeper areas take Route 29 south to Route 17 south for approximately 20 miles, turn right onto Route 615 (Rock Run Road). Park entrance will be on the left (Gold Dust Parkway).
From the south (Fredericksburg, VA area) take I-95 to Route 17 north. Go approximately 20 miles, take a left onto Route 615 (Rock Run Road). Park entrance will be on the left (Gold Dust Parkway).
From the north (Northern Virginia area) take Route 66 west to Route 29 south towards Culpeper, take a left onto Route 17 at Opal and go approximately 12 miles to Route 615 (Rock Run Road). Make a right turn onto Route 615 to park entrance on left (Gold Dust Parkway.