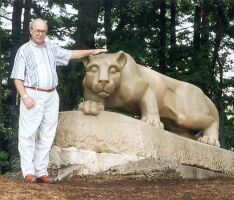 Dick Dovell - His Life and Times
Dick was born in Leesburg, Virginia. His early years were spent in Takoma Park, Maryland and at the age eight, his family moved to Strasburg, Virginia. Two years later they moved to the family farm at Reliance, Virginia, and just three miles from Lord Fairfax Community College. He and his wife are now long time residents of Front Royal, Virginia.
Growing up in Warren County, he was educated in the public school system, including two years in a two-room school that housed all seven elementary grades. He graduated from Warren County High School in 1955, after serving two years as president of the Front Royal Chapter of the Future Farmers of America, and was awarded a full academic scholarship to the University of Maryland, where he received a degree in General Agriculture in 1959.
Warren County High School had been closed in 1958, due to "Massive Resistance," the reluctance of Warren County to integrate its high school. When the school was forced by the federal court to reopen in 1959, Dick accepted a science teaching position in the newly integrated facility.
The following summer, he was employed by radio station WFTR, where he spent the next four years. He was the morning disc jockey and did news, weather and play-by-play sports, covering football, basketball and baseball.
Dick left radio to manage the family farm when his father suffered a heart attack. After his father's recovery, he returned to teaching, accepting a math position at John S. Mobsy Academy, a Freedom of Choice school that resulted from the forced integration of Warren County High School. A year later, he returned to the public schools to teach earth science, a position he held for a number of years.
In 1970, he received a grant in the National Science Academic Year Institute at Pennsylvania State University and earned a Master of Education degree with a major in Earth Science. He returned to Warren County and a year later accepted a faculty position at Lord Fairfax CommunityCollege.
Dick has taught many geology and agriculture courses at Lord Fairfax for 33 years.
A long time believer in education, with degrees from Maryland and Penn State, Dick has also taken course work from the University of Virginia, Washington and Lee University, Virginia Polytechnic Institute and State University, and New York State College. He has been a life long farmer, with experience in poultry, dairy and beef cattle. Also interested in sports and in writing, he was a football and baseball coach at Warren County High School and wrote for the Northern Virginia Daily, Winchester Evening Star and Warren Sentinel.
After suffering a stroke, Dick has recovered to continue his teaching career. When the State of Virginia proposed an early retirement for employees he was able to participate. He has been named Professor Emeritus at Lord Fairfax Community College . He fully retired from teaching in 2004
His wife, Lorraine, a graduate of Warren County High School, Lord Fairfax and James Madison University, with a Masters in Education, and was an assistant principal at Warren County High School and is a past recipient of the Lord Fairfax Community College Outstanding Alumnus Award. Their daughter, Diane, attended Lord Fairfax as a senior at Warren County High School and is a graduate of James Madison University. She is employed by the Educational Foundation of James Madison University and is involved in fund raising. Diane received her Masters in Public Administration on December 11, 2004 from JMU.