Passage Creek Field Trip
A series of block fields can be seen from Interstate Highway 81 on Massanutten Mountain to the east and on Great Mountain to the west. For a closer look, block fields can be seen on both sides of Passage Creek and on the road to Woodstock Tower.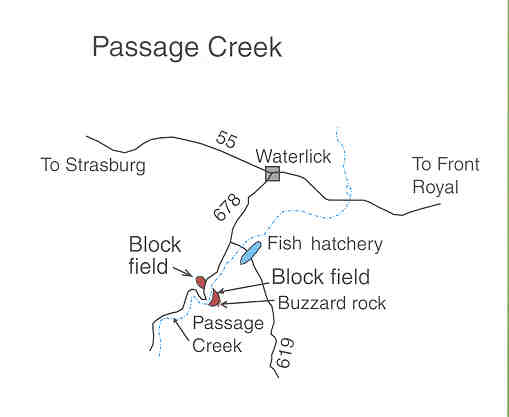 Directions to Passage Creek:

From Strasburg, take Route 55 east from its junction with Route 11 for 5 miles to Waterlick. If you begin in Front Royal, take 340 for 5.1 miles to Waterlick. At Waterlick, turn onto Route 678 (Fort Valley Road) and go 1.9 miles to a parking area on the right side of the road. Block fields can be seen on the slopes above the parking area and upstream across the creek below Buzzard Rock. Can you distinguish the block-field boulders from those that are talus below the cliffs? Do you see evidence of movement? A retaining wall constructed of block-field sandstone can be seen downstream between the road and Passage Creek.
Block fields – What are they?
This question is answered in a brochure published by USGS and the Forest Service. The brochure, "Glimpses of the Ice Age from I-81" can be downloaded from http://pubs.usgs.gov/gip/i81. You will need Adobe Acrobat Reader to access and print out the brochure which is in pdf format.
The information provided here is taken from the brochure.