Shenandoah River Stream Study Field Trip

Field Trip Directions and Map: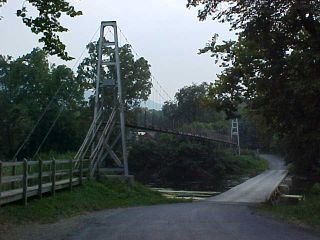 Take Route 11 south from Strasburg. You can pick up Rt. 11 at the front of Lord Fairfax and go through Middletown to Strasburg. Do not take I-81. Go through Strasburg, taking a right at the light and go through the next light. South of Strasburg, Route 11 becomes divided. Stay in the left lane and watch for Route 601. Turn left, across the divided highway and go east on 601. That's the Massanutten Mountain in front of you. You will go about two miles and will come to a beautiful valley. At the barn, take a sharp right and almost immediately turn left on Route 744. Route 601 becomes 648, if you continue straight, don't. Go 0.4 mile on 744 to a low water bridge over the North Fork of the Shenandoah River.
This is the bridge to Deer Rapids in the Posy Hollow section of Shenandoah County. It's called a low water bridge because you can only use it during low water. There's a reason why they have foot markers on the signs and the river does rise that high. During flood stage, folks park on the other side and use the footbridge to get home. It's either that, or be "Rivered In." Yes, people live here. Go across the bridge and count the mailboxes.
You may do a stream study of any site. There are many in the surrounding counties. If you find a low water bridge you don't have to wade. The bridge here is wide enough for you and a car, but be careful and be ready to answer questions from the natives. Take somebody with you for help and for companionship. Good luck on keeping the kids off the swinging bridge!
At the site, the Shenandoah flows at right angles to the orientation (layering) of the shale rock in stream bed, making little waterfalls (they are called riffles) where some of the rock is harder and more resistant to stream erosion. This is the Martinsburg shale of the Ordovician Period. Also make note of the natural levees along the riverbank. What's a levee? "Drove my Chevy to the levee, but the levee was dry." Look it up. Also make note of the terraces above the river on the other side.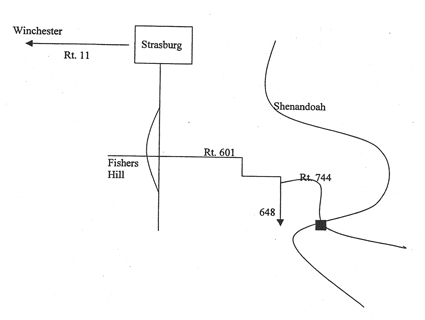 To learn about levees and rivers read John Berry's Rising Tide and for more information about the Shenandoah read The Shenandoah River Atlas. Both are great, if you canoe, you must get a copy of the atlas, published by the Friends of the Shenandoah. Also watch "The River", videotape #2610 at Lord Fairfax, it is 40 minutes long and a classic. Which means it's old and boring just like your geology teacher!
Return to Top of Page
Return to Field Trips Page
Return to Dick's Page